Cult of the Lamb wants to be the game your mom warned you about when you were a kid. It is a game about old gods, false prophets, demonic possession, and heretical cults. It goes hard for an edgy aesthetic, mixing cute and gory in a 2.5D hand-drawn style. The gameplay is largely comprised of two interlocking parts: settlement management and rouge-like hack-and-slash.
The first part has the player manage their own cult by keeping their flock devoted. These features–such as a tech tree, crafting, building, and farming–are reminiscent of farming simulators like Stardew Valley. Of course, Cult of the Lamb puts an edgy spin on the genre, and beyond maintaining a good relationship with their followers, the player has to indoctrinate fresh cultists, minister dark rituals, and crack down on heretic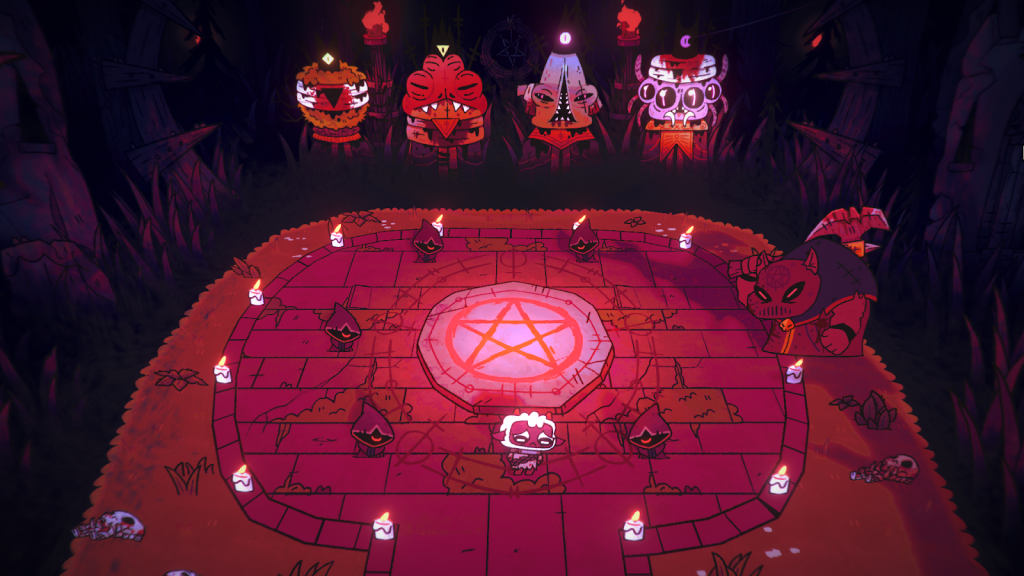 The second part of the game takes place in rogue-like dungeons of interlocking square rooms in a similar vein to Binding of Isac. Here the player is aimed with randomized weapons, spells, and power-ups and has to fight their way a number of levels before facing a boss. The two game modes are interlocked, however, as the player needs to collect materials from the dungeon to be able to manage their cult while building their cult provides power-ups for combat.
Cult of the Lamb certainly tries to be a jack of all trades, however, in many ways its mechanics are shallow. The tech tree and follower management don't have a whole lot of depth and the combat is often frantic but somewhat floaty. This being said, the game is enjoyable and provides a good casual introduction to both rouge-likes and farming simulators. The tutorial of the game is especially well-designed, opening up new mechanics gradually and increasing the complexity at a comfortable rate. Beyond the tutorial, some of the time pressure of side-missions and the lack of resources in the early game can become frustrating, and players can find it difficult to focus on customization and just "hanging out" with their cult. A more serious separation between the game modes (e.g. stopping the side mission clocks when the player visits the cult, or the follower needs while the player is in the dungeons) could solve this issue as the player could build their camp or explore dungeons in a more relaxed manner.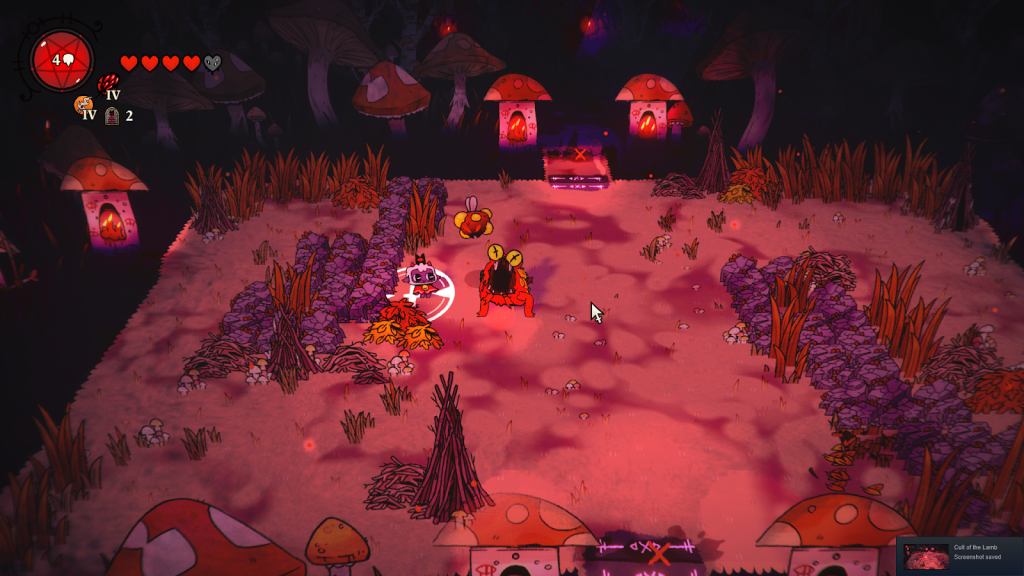 All in all, the Cult of the Lamb is a nice casual romp with gorgeous aesthetics and enough edginess to last for the whole Halloween season.